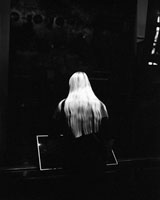 Keeper of Light
April 11, 2009 - June 27, 2009

Sandroni.Rey is pleased to present a group exhibition of portraiture entitled Keeper of Light. Works in the show include photography, drawing, video and collage by artists Ronnie Bass, Nicole Belle, Lady Jay & Genesis BREYER P-ORRIDGE, Chuck Close, Abel Gutierrez, Whitney Hubbs, Chloe Piene and Aristides Ruiz.

Two daguerreotypes by Chuck Close—one depicting the artist himself and the other a portrait of a sunflower—form the conceptual basis for this group exhibition. In thinking about the daguerreotype within the history of photography, the inherently intimate nature of the object lends itself to a more current conversation about self image today. With the world in a tenuous state, people seem to be exploring the idea of self in new ways, bringing what was perhaps recently a larger projection back down to more personal encounters, either contained within oneself or in small group exchanges.

The artists in Keeper of Light embrace this more fragile notion of portraiture in using intimate objects and experiences to investigate quotidian aspects of life. Taken together their works reflect the vulnerability of the current moment in time that is yet to be defined, but has undoubtedly permeated recent conversation. As Nicole Belle describes, "I hope to make images that document nothing but resonate with something pre-conscious or at least pre-conventional—something current but out of time, local but not placeable, specific but not articulable."

Ronnie Bass lives and works in New York. He graduated with an MFA from Columbia in 2006 and shows with I-20 Gallery in New York. Nicole Belle lives and works in Los Angeles. She graduated with an MFA from UC Riverside in 2008 and most recently was included in the group show Inside of Me at PHIL Gallery in Los Angeles. Genesis Breyer P-orridge lives and works in New York and shows with Invisible-Exports Gallery in New York. Chuck Close lives and works in New York. He has been the subject of over 100 solo exhibitions throughout the world and is represented by Pace Wildenstein. Abel Gutierrez lives and works in Los Angeles. He will graduate from the California Institute of the Arts in Spring 2009. Whitney Hubbs lives and works in Los Angeles. She will graduate with an MFA from UCLA in Spring 2009. Chloe Piene lives and works in New York and Berlin. She has shown internationally and most recently completed a solo show at the Musée d'Art Contemporain de Nîmes, in Nîmes, France. She is represented by Sandroni.Rey in Los Angeles and Barbara Thumm in Berlin. Aristides Ruiz lives and works in Australia. He is represented by Klaudia Marr Gallery in Santa Fe, NM.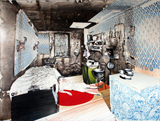 Jörg Lozek
SCHIMMELREITER
February 21, 2009 - April 4, 2009

Sandroni Rey is pleased to present an exhibition of new paintings by Jörg Lozek. This will be Lozek's second exhibition with Sandroni Rey.

In these attic-like interiors, Lozek's subjects find only the bare necessities of domestic life. The architecture of the room itself is deteriorating – detaching wallpaper, crumbling stucco and faulty masonry. Lozek comments, "If these attic-like rooms and their figures with distinctive haircuts and clothing seem to belong to a remote time in the past, they still radiate a certain present-day immediacy. Despite the playful portrayal of bizarre phenomena of decay, the particular protagonists seem to feel at home. Between figure and room there seems to arise, so to speak, an mutual, even intimate understanding."

Jörg Lozek was born in 1971 in Chemnitz, Germany. He currently lives and works in Leipzig. Lozek received his master's diploma in 2002 from the University of Leipzig. His work was recently shown at Daniel Templon Gallery in Paris and was included in the 2005 Prague Biennale.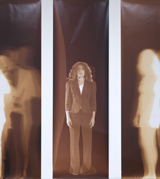 Farrah Karapetian
Tragic Muse
January 24 - February 14, 2009

Sandroni.Rey is pleased to present "Tragic Muse," an installation by Farrah Karapetian to open the weekend of Art LA 2009.
In Tragic Muse, the third work in a series of self-portraits, Karapetian considers the relationship of the self to others. The piece describes five characters, their forms ambiguously repeated in various postures over the course of eight panels of photographic paper. In the center of these eight panels is a panel whose image is unambiguous: the artist, suited, stands slightly smaller than the company she keeps. The image of the artist was contact printed from an almost-full-scale negative, while the images of the others were photogrammed at the full scale of their shadows. The image of the artist, then, describes all of her features, while the images of the others are gestural silhouettes.

The subtext of the piece is twofold, as is what drives most of Karapetian's work: she plays here with the interface between photograms and photographs, on the one hand, and with the interface between public and private consciousness on the other. The artist wanted to picture herself somewhat at sea among a bevy of psychological presences; strong, perhaps, or focused, but distanced somewhat from the lives of the characters in her mind. Here she responded fondly but with due criticality to the painting by Sir Joshua Reynolds, Sarah Siddons As The Tragic Muse.

What interested the artist, in the case of this suite of photographs, was whether the photograms would describe more or less about the characters they pictured than the full-featured image of herself could describe about her own character. The disjuncture between the panel of herself and its surrounding images is vastly more disruptive than the disjuncture between each individual panel of photogrammed imagery. Is this how one sees oneself, regardless of the proliferation of various tragic or comic experiences? Is one's own image always rendered more completely for oneself, while the images of others are somehow more lively, if less detailed or focused in our minds?